IMUS? WHAT ABOUT RUSH?
This is not a comfortable topic for me. I BEGAN my career in radio. While many people here in L.A. remember me from my days as a radio/television sports anchor, commentary and editorial guy, I started off and did quite well as a rock 'n roll d.j. Along the way I had some fun in different music formats before making my bones as a general information talk show host on KMOX in St. Louis.
Race baiting, homophobic references, overt sexist or sexual references and phony "patriotism" acts were never a part of what I did on the air.
I've never met Don Imus. He was a good friend of a late friend of mine and as a result of that, Imus was kind enough to once sing my praises (vociferously) on his MSNBC show and I'll always be grateful for that.
Having said that, there is simply no excuse for what he said about those Rutgers basketball players. I'll admit it. I (like I bet most of YOU) laugh at things privately that I wouldn't say publicly, but there was nothing REMOTELY funny about the shots he took at the young women basketball players. NOTHING! Yes, Imus has been apologizing over and over again, but this is (for him) very possibly the straw that proverbially broke the camel's back. Here's a guy who's made a career out of being (in his words) an equal opportunity abuser, but what strikes most folks the wrong way about THIS episode of Imus abuse is the target(s) he selected. Young college girls. Politicians? Fair game. Pompous big shots of any kind or color? Fair game. Etc., etc. MSNBC has announced they will no longer carry the Imus show even though the show has almost caught up to CNN in the ratings. MSNBC says their decision was made after a large number of MSNBC employees let management know in no uncertain terms, they didn't want Imus pontificating on their airwaves. Imus begins a 2-week suspension from his radio show this coming Monday. His first day back on the air is scheduled to be April 30, but
WILL he be back? At this point, I don't think anyone knows for certain.
Okay commentary boy (me), what do YOU think? Back when Imus was doing hilarious riffs on pompous preachers, etc., I would have been proud to have him representing my station as my morning guy. Even though I know that "hate/shock" radio (couched with humor) has become a big ratings grabber for a lot of stations, it ain't my kind of radio for the exact reason we're talking about this today. No matter how talented you are, doing this kind of schtick takes you in one direction and one direction only. Constantly trying to top yourself and you end up in a situation like Imus is in today.
And that brings me to Rush Limbaugh. Another talented broadcaster. A broadcaster who has made a career out of pandering to the very lowest common denominator which sadly there are enough of to influence some elections.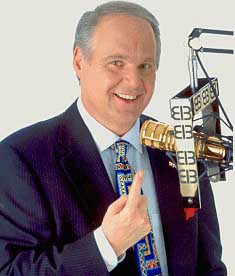 Phony, phony send 'em to war patriotisim (how many deferments, Rush?), hypocrisy of the first order regarding drug addiction and addicts, ethnic baiting and I could go on and on. The other day, Rush was laughing and joking on the air with another great patriot. How many deferments, Mr. Vice President Dick Cheney? And would you please tell us again how you feel about gays? Oh, you have a daughter who's one? Oops! Does this make ME sound like one of you "modern" broadcaster/patriots?
What will I write about tomorrow? No idea. I'll be as surprised as you are.